Unclassified Advertising
Members may advertise any item. Non members may advertise only off road recreation or 4X4 related items. No commercial ads permitted Ads are posted for a 3 month period. To submit an ad, email your contact information and ad content to Ads@Havasu4wheelers.org. Contact information includes full name, phone number, and e-mail address. Ad content includes description and price and may include photos (attach to email). To extend, edit or to cancel an ad when items have sold contact Ads@Havasu4wheelers.org Ads are deleted after 3 months if not renewed
PLEASE REMEMBER TO CANCEL WHEN ITEMS SELL!
WANTED TO RENT
Need a small travel trailer or pop-up trailer to rent.
Dates:  February 26th thru March 15th, 2020
Please contact me at either Email or cell phone.
Mike Gephardt
907-598-1020
gephardt@arctic.net
Posted 08/06/2019

FOR SALE: 2006 Rubicon

I  hate to give it up but just don't use it any more up in Washington I want to sell this to a club member before it is sold up in Washington. It has been on some of the club trails in Arizona before we took it north I can send more pictures to those that might be interested.
Only 76000 miles on it
will deliver within 200 miles of Spokane
Asking $19000
2006 Jeep Rubicon TJ with all of the goodies
new automatic transmission 3 years ago
lifted 4"
Warn bumpers and warn 8000 lb winch
33" tires stock 16" rims
very fancy radio blue tooth ect that my son had installed, CB works
Posted 07/25/2019

FOR SALE:  JimGlo All Aluminum 18' Tilt Trailer - Like New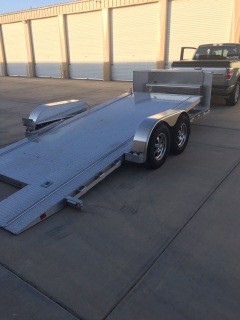 Aluminum 30 gal. gas tank with electric pump
NEW D rated tires (4)
Spare tire inside storage box
Tie down strap rack
Rock guard
Rub rails
Removable fenders
Storage lock box - side door and top door
Full length V-Trac with 4 clips
Hydraulic surge brakes - both axles
D rings - front and back
LED Lights
$8290 - Ask for Rodger
(928) 208-3469
Posted 06/21/2019

WANTED:  Stock Jeep axles
Looking for a takeout set of stock axle shafts for a Dana 30 and 35  to carry as a back up set.
Please call/text Ricky
928-486-8027
Posted 05/22/2019

FOR SALE:
Air Force one rv braking system for diesel pusher.  150.00 obo
Call Mark 818.262.8207
Posted 05/05/2019