Unclassified Advertising
Members may advertise any item. Non members may advertise only off road recreation or 4X4 related items. No commercial ads permitted Ads are posted for a 3 month period. To submit an ad, email your contact information and ad content to

[email protected]

. Contact information includes full name, phone number, and e-mail address. Ad content includes description and price and may include photos (attach to email). To extend, edit or to cancel an ad when items have sold contact

[email protected]

Ads are deleted after 3 months if not renewed
PLEASE REMEMBER TO CANCEL WHEN ITEMS SELL!
  FOR SALE: Engine Stand

Engine Stand
750 lb. Capacity engine stand.   $35
Text 928-412-3724 (Steve)
  FOR SALE: Lift Mate

For Sale
Lift Mate for Hi Lift Jack
$40.00
Loren Bruns
928-208-8255
  FOR SALE: 2003 Jeep Wrangler Rubicon   $22,000

  FREE: JP Magazines 2008-2010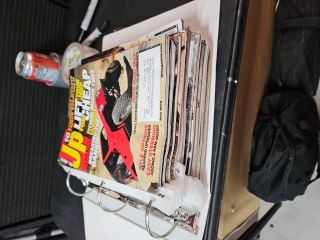 25 vintage JP magazines from 2008 to 2010.
FREE!!!!!
Local Pickup only
Kurt Smith
LHC, AZ
 FOR SALE:  Smittybuilt WASP
Smittybuilt wasp for sale.
Never used to my knowledge with protective cover.
100.00 or best offer!
Steve Savage
9284191113


[email protected]
Steve Savage
3210 Thundercloud Drive
Lake Havasu City, AZ 86406
Cell: 3204024052
Home: 9287331002
E Mail: [email protected]
 WANTED: Wheels and Tires
Wanted:  4 stock wheels and tires for TJ.
Call Sue at 360-808-1981
Posted  03/04/2023